Type
Package
[mm]
Interface
Features

Current


@ 3V

Time Accuracy


@ 25°C

Temp Comp


-40/85°C

VDD


min

VDD


max

Temp.


max

Documents
Temp.
read back
Clock
Out
Battery
Switch
Battery
Charge
Charge
Pump
Time
Stamp
Alarm
Timer
Unix
Time
Offset
Comp
RAM


[bytes]

EEPROM


[bytes]

RV-5028-C7 Medical

3.2 x 1.5 x 1.0

I²C
45 nA
±1 ppm
1.1 V
5.5 V
+85°C
Datasheet
App. Manual

✓
✓
✓
✓
✓
✓
✓
✓
2
43
RV-5028-C7 Medical is a SMT Real-Time Clock Module that incorporates an integrated CMOS circuit together with an XTAL. It operates under vacuum in a hermetically sealed full ceramic package offering reliable and safe operation in Helium environment.
The RV-5028-C7 Medical real-time clock/calendar module with an automatic backup power switchover circuit is optimized for extreme low power consumption and manufactured in accordance with the highest quality production technologies for specific use in implantable medical devices.
It provides full RTC function with programmable counters, alarm, selectable interrupt and clock output functions and also a 32-bit UNIX Time counter. The internal EEPROM memory hosts all configuration settings and allows for additional user memory. An EEPROM Offset value allows compensating the frequency deviation of the 32.768 kHz clock.
RV-5028-C7 Medical is dedicated for specific use in Class III implantable medical devices and benefits from long-term reliability which is of utmost importance and a hallmark of Micro Crystal's entire medical implantable grade portfolio.
Extreme low power consumption: 45 nA @ 3 V
Wide operating voltage range: 1.1 V to 5.5 V
Time accuracy: Factory calibrated to ±1 ppm @ 25°C
Backup Switch and Trickle Charge
Provides year, month, date, weekday, hours, minutes and seconds
32 bit UNIX time counter
External event input detection with time stamping
43 bytes non-volatile user memory, 2 bytes user RAM
I²C-bus interface: 400 kHz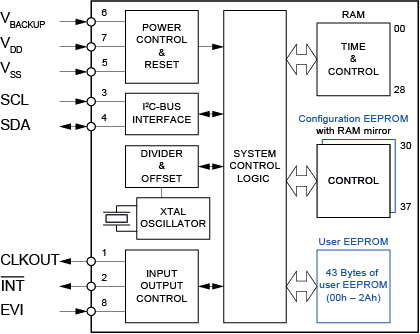 The RV-5028-C7 Medical RTC module has been specially designed for ultimate low power consumption in implantable devices:
Neurostimulators
Cardiac Monitoring Devices
Infusion Pumps
Smart Orthopedic Implants