White Paper > Keep Accurate Track of Time and Temperature while Saving Power with RV-3032-C7 Real-Time Clock Module
When you think of temperature monitoring and critical components survey on a PCBA you may not think of Real-Time Clocks (RTC), but in addition to keep an updated track of the current time such device is able to provide much more information. Following the trend for product simplification pushing for functions combination in single device and answering to customer demand for accurate temperature reading and low-power solutions, Micro Crystal is leading the way with its most power efficient, accurate and ultra-compact temperature compensated Real-Time Clock Module, yet.
The new RV-3032-C7 offers to designers vast opportunities for industrial, healthcare, wearable and IoT deployments in the smallest spaces. While keeping microcontroller in deep sleep mode to reduce global system power consumption, this fully embedded temperature monitoring added function is ideal to advise on thermal environmental conditions and critical system events through temperature window crossing interrupts and timestamps.
The presence of timing, power and temperature-window crossing interrupts within the same component, offers a significant design advantage With reduced piece-part count and minimized number of physical lines required for interrupt readings. All this enabling you to get the most out of your solution and application.
Readers will learn:
How RV-3032-C7 RTC module can be used in new design to enhance operation with no increase in power consumption nor impact on system board area
What are the features and characteristics of the embedded Temperature Sensor
What are the competitive advantages compared to other solutions
What are the thermal and design constraints to consider
In which Applications it might be deployed

Micro Crystal has a history of success in the Quartz, Oscillators and Real-Time Clock Modules industry, with a broad product portfolio to meet design needs.
Do not hesitate to contact us for any question you may have about how our products can fit into your application.

Wishing you a pleasant and instructive read.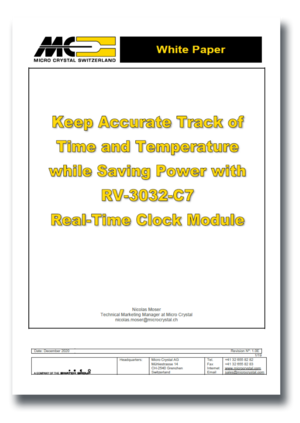 We will send the download-link by e-mail.
Please Register: