Type
Package
[mm]
Interface
Features

Current


@ 3V

Time Accuracy


@ 25°C

Temp Comp


-40/85°C

VDD


min

VDD


max

Temp.


max

Documents
Temp.
read back
Clock
Out
Battery
Switch
Battery
Charge
Charge
Pump
Time
Stamp
Alarm
Timer
Unix
Time
Offset
Comp
RAM


[bytes]

EEPROM


[bytes]

RV-8263-C8

2.0 x 1.2 x 0.7

I²C
190 nA
±20 ppm
0.9 V
5.5 V
+85°C
Datasheet
App. Manual
Free Samples
✓
✓
✓
✓
1
RV-8263-C8 This ultra small RTC Module has been specially designed for miniature and cost sensitive high volume applications. The tiny C8 (2.0 x 1.2x 0.7 mm) SMD ceramic package combines the 32.768 kHz crystal unit with the CMOS-based oscillator and real-time-clock circuitry. The clock function provides seconds, minutes and hours. The calendar function tracks date, month, year and century with automatic leap year compensation. Programmable CLKOUT frequencies, alarm settings and timer function increase flexibility.
Unique ultra-small size, low profile and lightweight (5.1 mg)
Low power consumption: 190 nA @ 3 V
Wide operating voltage range: 0.9 V to 5.5 V
Time accuracy: ±20 ppm @ 25°C
Operating temperature range: -40 to +85°C
User programmable offset value. Oscillator stop detection
Provides year, month, date, weekday, hours, minutes and seconds
Automatic leap year calculation: 2000 to 2099
Timer and Alarm functions
Clock output frequencies: 32.768 kHz to 1 Hz.
I²C-bus interface: 400 kHz
100% Pb-free, RoHS-compliant
Automotive qualification according to AEC-Q200 available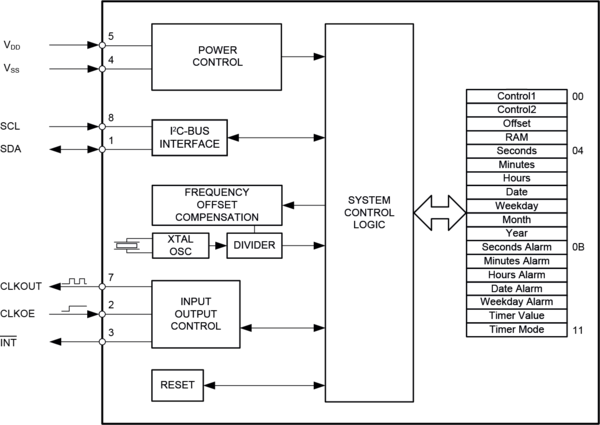 The RV-8263-C8 RTC module combines standard RTC functions in high reliable, ultra-small, low profile and lightweight ceramic package.
IoT
Metering
Industrial
Automotive
Health Care
Wearables, Portables