Type
Package
[mm]
Interface
Features

Current


@ 3V

Time Accuracy


@ 25°C

Temp Comp


-40/85°C

VDD


min

VDD


max

Temp.


max

Documents
Temp.
read back
Clock
Out
Battery
Switch
Battery
Charge
Charge
Pump
Time
Stamp
Alarm
Timer
Unix
Time
Offset
Comp
RAM


[bytes]

EEPROM


[bytes]

RV-8063-C7

3.2 x 1.5 x 0.8

SPI
190 nA
±20 ppm
0.9 V
5.5 V
+85°C
Datasheet
App. Manual
Free Samples
✓
✓
✓
✓
1
RV-8063-C7 is a CMOS real-time clock/calendar module optimized for low power consumption. An Offset register allows to compensating the frequency deviation of the 32.768 kHz clock. All addresses and data are transferred serially via a Serial Peripheral Interface (SPI-bus) with a maximum data rate of 7 Mbit/s. The register address is incremented automatically after each written or read data byte.
This ultra small RTC module has been specially designed for miniature and cost sensitive high volume applications.
Low power consumption: 190 nA @ 3 V.
Wide operating voltage range: 0.9 V to 5.5 V.
Time accuracy: ±20 ppm @ 25°C.
SPI-bus interface: 3-wire, 7 MHz.
Operating temperature range: -40 to +85°C.
User programmable offset value.
Oscillator stop detection.
Provides year, month, date, weekday, hours, minutes and seconds.
Automatic leap year calculation: 2000 to 2099.
Timer and Alarm functions.
Clock output frequencies: 32.768 kHz to 1 Hz.
Automotive qualification according to AEC-Q200 available.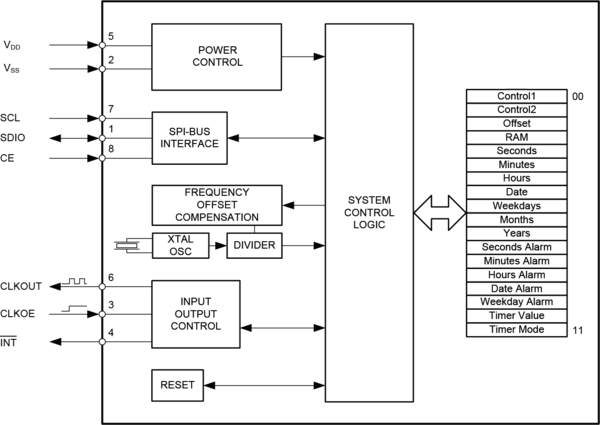 IoT
Metering
Industrial
Automotive
Health Care
Wearables, Portables