Type
Package
[mm]
Interface
Features

Current


@ 3V

Time Accuracy


@ 25°C

Temp Comp


-40/85°C

VDD


min

VDD


max

Temp.


max

Documents
Temp.
read back
Clock
Out
Battery
Switch
Battery
Charge
Charge
Pump
Time
Stamp
Alarm
Timer
Unix
Time
Offset
Comp
RAM
EEPROM
RV-8564-C3

3.7 x 2.5 x 0.9

I²C
250 nA
±20 ppm
1.2 V
5.5 V
+85°C
Datasheet
App. Manual
Free Samples
✓
✓
✓
RV-8564-C3 is a CMOS real-time clock / calendar optimized for low power consumption. A programmable clock
output, interrupt output and voltage low detector are also provided. All addresses and data are transferred over an I²C-bus interface for communication with a host controller. The Address Pointer is incremented automatically after each written or read data byte.
Low power consumption: 250 nA @ 3 V.
Wide operating voltage range: 1.2 V to 5.5 V.
Time accuracy: ±20 ppm @ 25°C.
Operating temperature: -40 to +85°C.
Low voltage detection
Provides year, month, date, weekday, hours, minutes and seconds.
Alarm and timer functions.
Clock output frequencies: 32.768 kHz, 1024 Hz, 32 Hz, 1 Hz.
I²C-bus interface: 400 kHz.
Automotive qualification according to AEC-Q200 available.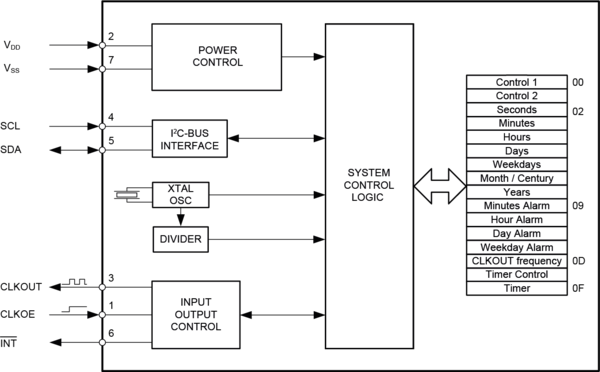 IoT
Metering
Industrial
Portables
Automotive
Health Care