Type
Package
[mm]
Interface
Features

Current


@ 3V

Time Accuracy


@ 25°C

Temp Comp


-40/85°C

VDD


min

VDD


max

Temp.


max

Documents
Temp.
read back
Clock
Out
Battery
Switch
Battery
Charge
Charge
Pump
Time
Stamp
Alarm
Timer
Unix
Time
Offset
Comp
RAM
EEPROM
RV-3129-C3

3.7 x 2.5 x 0.9

I²C
800 nA
±3.0 ppm
±6.0 ppm
1.3 V
5.5 V
+125°C
Datasheet
App. Manual
Free Samples
✓
✓
✓
✓
✓
✓
8
2
RTC module with built-in "Tuning Fork" crystal oscillating at 32.768 kHz
New Package outline with side castellations for optical post soldering inspection
Factory calibrated, all built-in Temperature Compensation circuitry
Time accuracy: Temperature Range

25°C +/- 3 ppm
0°C to + 50°C +/- 4 ppm
-10°C to + 60°C +/- 5 ppm
-40°C to + 85°C +/- 6 ppm
-40°C to +125°C +/- 8 ppm

Ultra low power consumption: 800nA typ @ VDD = 3.0V / Tamb = 25°C
Wide clock operating voltage: 1.3 – 5.5V
Extended operating temperature range: -40°C to +125°C
I²C serial interface with fast mode SCL clock frequency of 400 kHz
Provides year, month, day, weekday, hours, minutes and seconds
Main Power Supply to Backup Battery switchover circuitry with Trickle Charger
Programmable CLKOUT pins for peripheral devices (32.768 kHz / 1024 Hz / 32 Hz / 1 Hz)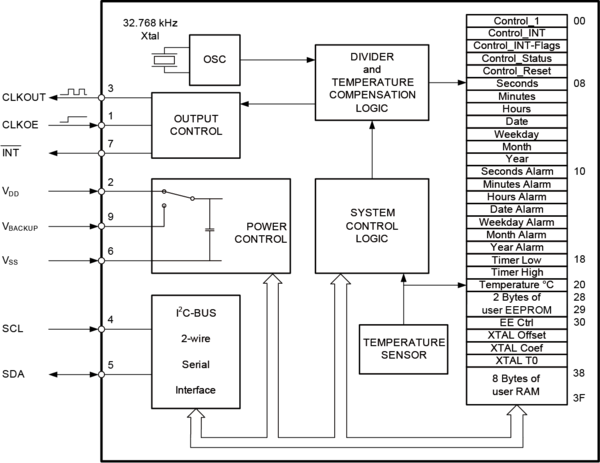 The unique features make this product perfectly suitable for many applications:
Automotive: Car Radio / GPS and Tracking Systems / Dashboard / Engine Controller /
Car Mobile & Entertainment Systems / Tachometers
Metering: E-meter / Heating Counter
Outdoor: ATM & POS systems / Surveillance & Safety systems / Ticketing system
All kind of portable and battery operated devices
Industrial and consumer electronics
White goods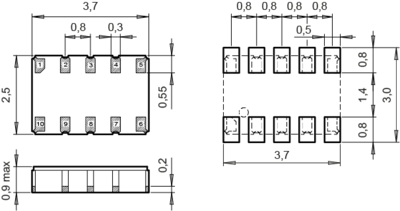 RV-3129-C3 ia CMOS low power, real-time clock/calendar module with built-in Thermometer and Digital Temperature Compensation circuitry (DTCXO). The temperature compensation circuitry is factory-calibrated and greatly improves the time accuracy by compensating the frequency-deviation @ 25°C and the anticipated frequency-drift over the temperature of the embedded 32.768 kHz "Tuning-Fork" crystal, even over the extended Temperature Range -40°C to +125°C. Data is transferred serially via an I²C interface with a maximum SCL clock frequency in fast mode of 400 kHz, the built-in word address register is incremented automatically after each written or read data byte. Beyond standard RTC-functions like year, month, day, weekday, hours, minutes, seconds information, the RV-3029-C2 offers highly versatile Alarm and Timer-Interrupt function, programmable Clock-Output and Low-Voltage Detector.